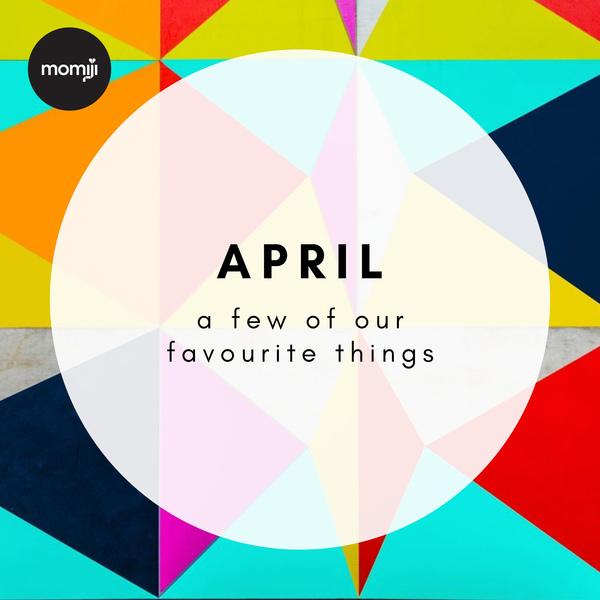 Hello. How's it going? I'm finding my own answer to that question changes from hour to hour. Mostly ok. Sometimes lonely. Sometimes content. Sometimes anxious. Sometimes lost in a Netflix binge. Sometimes eating peanut butter from the jar. 
It's the end of another month so time for a round up of our favourite things. Join in and let us know what's been lifting your spirits. Leave us a comment before midnight on Monday 4th May and we'll pick three people to win a Momiji doll. 
Something to move to…
I've been trying to start each morning with a little exercise. I don't always want to but I feel a million times better on the days when I do. My friend and I made a pact that we'd both start every weekday morning with a video from Yoga With Adrienne. Once that's done my friend follows on with some hardcore HIIT workout but I've been tuning in to Ryan Heffington's dance parties. He's based in LA so I catch them the following day on Instagram stories. They're SO MUCH FUN, there's nothing complicated involved and you're guaranteed an endorphin high. You'll find him live on Tuesday, Wednesday, Thursday, Saturday & Sunday. Check his Instagram for times. 
Something to doodle…

I enjoyed this IGTV from The Design Museum by Morag Myerscough. The video was part of a series called Lunch & Learn; in this one she sets the task of creating three sketch book pieces in 20-30 minutes. You don't need to be "good at drawing" to get loads from this. As Morag says, "Your sketchbook is your safe place and it can be for your eyes only so just play, experiment but the key thing is starting it whatever it might be."
Something to inspire…
Many of you may know Momiji collector, Nancy on Instagram. Nancy creates the most beautiful artwork of her favourite Momiji dolls and we wanted to share this video of her illustration of Cosmo, one of our new girls from the Explore collection. Thank you, Nancy! Click here to watch it. 

Something to eat…
Rocky Road is one of my favourite easy recipes. Helena has been making it during lockdown with her little girl. No baking is required and children make excellent helpers for weighing and stirring. I always use this recipe although I find that it needs a whole can of condensed milk, not just the 100g stated, to get the right consistency. It's a perfect recipe to freestyle; you can add and replace the fruits and nuts depending on what you have at home right now.
So, how about you? Leave us a comment with your favourite things this month. We'd love to know what you've been watching, reading, cooking, drawing and listening to. We'll pick three winners after midnight on Monday 4th May.
(Mother's Day | A little reminder for those of you around the world who will be celebrating Mother's Day on May 10th (it's a different day here in the UK) take a look and find your perfect Momiji match for your mama.)