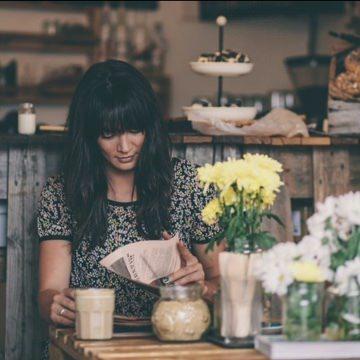 Over the last few months I've become besotted with a seaside cafe, through the power of Instagram. I may be hundreds of miles from the coast but Jam Jar Cafe, created by baker, Jessica Davies @jam_jar_jess has become a daily dose of coffee, cake and sea air for me and it's definitely on my list of roadtrip destinations for the summer. We love interviewing women who inspire us with their creative careers and as we've just welcomed Happy Bean into the Momiji family, now seems a good time to chat with Jess about business, brewing coffee and baking brownies.
 
Name: Jessica Davis ( Jam Jar Jess!)
Hometown: Newquay, Cornwall
Occupation: Baker, cafe owner
Can you tell us about how Jam Jar Cafe came about?
I've always loved baking a few years ago I had just arrived home from working as a pastry chef in Byron Bay in Australia. I continued by baking cakes to order for friends and family and gradually built up a local custom base in Newquay as 'Jess the cake baker'. 
I specialise in gluten free and also bake dairy free & refined sugar free cakes too so I have a more health conscious target market. Then one day a small shed type shop came up for rent so I took a risk and I put my love of baking and good coffee (from my travels in aus) together and served everything in Jam Jars as I thought it would be a cheap and quirky edge plus I already used to drink all my juices etc from jars I've collected at home! It turns out the Jam Jar premises used to be a glass blowing shop many years ago which is quite fitting!

If we came to visit, what would we find?
If you came to visit the cafe you would find local organic coffee, a wide selection of homemade cakes (all gluten free) giant jars of homemade maple pecan granola, fresh juices, green smoothies, herbal teas and lots of lovely local people.
Did you always know that you wanted a creative career?
I always knew I wanted a creative career. My favourite subject at school was always art, then I went on to study business, media & photography at A-level and then graphic design at uni so I think a creative career was always on the cards for me.
What about education - did you study anything in particular and if so, has it had an impact on what you do now?
All of my choices during education have had a great impact and all play a part in what I do every day. instagramming my daily posts is one of my favourite parts of the day! And designing the blackboard and menus with my design background helps a lot too.


Can you tell us about a typical day for you?
A typical day for me is to wake up early, bake a sugar free banana loaf & a slab of coconut flapjack, head to the cafe stock up on milk and open up! I post a photo for my Facebook page and instagram before the morning rush then spend the day making coffees and having conversations with all my lovely local customers from elderly ladies waiting for their laundry next door with an earl grey tea to teenage boys grabbing a post surf smoothie to yogis having their ritual almond matcha lattes! then I go home, bake a brownie slab and make some vegan energy balls then usually head to crossfit or yoga (or for a surf if the suns out!!)
What was your vision before you started out?
I didn't really have a set vision, it's just organically grown and changed as I have. When I first opened the place looked totally different to how it does now...although the ethos behind everything remains the same - to offer a relaxed friendly environment where people can come and chat and enjoy a healthy treat and a good coffee - simple.
 
What's the best thing about doing what you do?
My favourite part of the job is definitely the people. Not just the conversations I have with them but more so hearing the different interactions between people. I love to see how people meet in the cafe who may have never met otherwise.
What is/has been the biggest challenges?
The biggest challenge for me is definitely finding time to take out. I get so immersed in the day to day life at the cafe sometimes it's hard to switch off and be elsewhere. But I do feel really lucky to love what I do every day.
What were you most nervous about before you started the cafe?
I didn't get too worried about opening the cafe initially as I didn't have to make too many sacrifices and I still had a part time pastry chef job to fall back on at The Scarlet Hotel. Initially the cafe was only supposed to be a pop up for 3 months and here I am 3 years later! I think you can always put off doing something if your over analyse but it's always worth taking the leap. I'd definitely rather try something and fail than regret not trying, as long as you give it your best shot you can't be disappointed.
Is Jam Jar Cafe famous for any one dish or cake?
As the cafe's evolved so has its reputation for certain cakes! It was definitely my salted caramel chocolate brownies in the early days but now my sugar free raspberry, banana & cacao muffins sell out every day before lunch!
What's the best thing about living where you do?
The best thing about living in Newquay other than the amazing people has got to be the stunning coastline. Even after the most stressful busy summer's day, a walk along the beach at sunset or a clifftop bbq dinner makes the perfect end to any day.
What lessons have you learned along the way?
I've definitely learned that you can't always say yes! Being self employed I always want to grab hold of any opportunity and also I'm a bit of a people pleaser! But you always have to weigh things up and prioritise otherwise something will sacrifice in the end. Better to do a few things really well than attempt too much.
What are you most excited about for the future?
I'm most excited about the fact I don't really know what the future holds! I'd love to have my own recipe book...maybe even a little video blog so that's where I'm focusing a lot of my energy this year. Also I've started a small health food shop within the cafe called 'coconut corner' so I'm excited about establishing that more.
Can you describe Jam Jar Cafe in five words?
welcoming. local. healthy. friendly. comforting.
Happy Bean is clutching her coffee - what's your favourite kind of coffee?
I used to be a classic black americano but now I'm a sucker for a good flat white (sometimes with a sprinkle of coconut sugar!)
Friday nights or Sunday mornings?
DEFINITELY Sunday morning. Nothing I love more than having a filter coffee watching sunday morning cookery shows with breakfast in bed! 
Thanks Jessica - we've loved getting to know you. We're craving coffee, sea air and raspberry, banana & cacao muffins...
Be sure to check out @jam_jar_jess on Instagram for a regular dose of cake, coffee and coastlines. 
Coffee fans, you cap pick up your very own Happy Bean in the shop here.