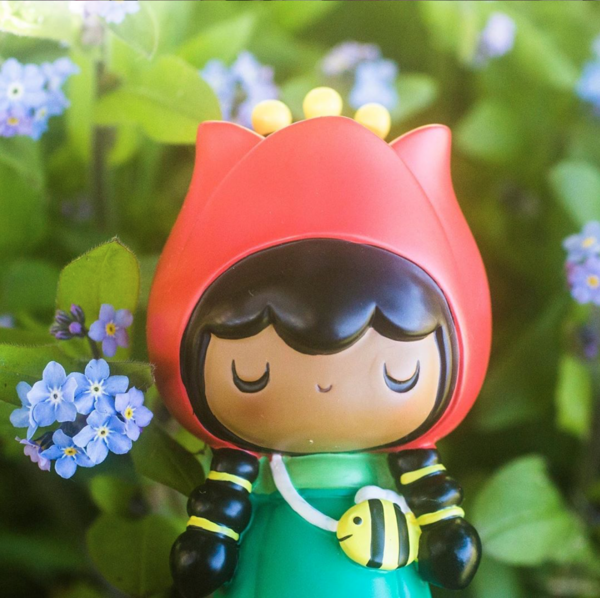 photo credit irregularthinking
We were due to publish our May Monthly Favourites blog post earlier this week but we've been on pause. It was time to stop talking for a while and do some listening and reflecting. The murder of George Floyd by a white police officer has shaken the world and caused many people to pay long overdue attention to the brutal racism that black people face and have faced for generations.
I'm sure you will have seen the words "It's not enough not to be racist, we must be anti racist" across social media. When I first saw that I nodded along and reassured myself that I was anti racist. But these past few days have been an uncomfortable wake up call for me. Am I anti racist? Am I actually doing anything or am I expecting the victims of racism to do the work and whilst I observe from the sidelines?
I've come to the conclusion that I am guilty of inaction and we as a brand have work to do in order to fix this. As a company we are three individuals. Three white individuals. Helena designs most of our Momiji characters and many of you will know that we also often work with our beloved Luli Bunny from Argentina. Since we started the brand 15 years ago we have worked with another 16 guest designers from all around the world, many of them are from Asian countries but not one of them is black. 
We've talked so many times amongst ourselves about our desire to work with black designers. But we haven't been active enough in seeking them out and moving forward. That's my responsibility and I will fix it. 
Speaking to our white customers now, do you have diversity in your collection? Do you select toys, art and literature that feature people of colour?
I would also like to address our recent collections with POP MART. Both our Circus and Explore sets were made up of exclusively white dolls. We work really far in advance on these and this is something we had already vowed to put right in the future; any new collections will contain characters with different skin tones. We can attempt to ''explain' this by saying that the collections were produced for a Chinese fan base by a Chinese company but this explanation is not a valid excuse. We sell POP MART's products to our customers around the world and we must offer diversity.
We promise to do better. We have been reading, watching, listening, donating and exploring. This week has made me face up to how black people are denied access to so many opportunities, creative spaces, media platforms and earning opportunities. Whilst the world may be starting to wake up to racism because of the reports of murder and violence we have witnessed, it is time for us to recognise that every microagression and example of unconscious bias is a brick in the enormous wall of racism and exclusion that people of colour face. Whether it's our own failure to make enough of an effort to commission black designers, white parents not reading their children stories of diversity, the media's insistence on amplifying black voices only when attached to stories of struggle and activism rather than of joy or academia; it all adds up and creates a culture where black lives are undervalued by the dominant white culture. 
So my list of Monthly Favourites is a collection of some of the things that have brought me insight, education and joy recently. I would urge you to do your own exploring and learning. There is so much to be done. This will not be a one-off token effort. I vow that we will feature diverse people, stories and designers within this community and in our products. I'm sorry if I have said anything wrong here - please correct me. I'm sorry it has taken this for us to commit to doing better. 
Charlotte Williams

photo credit Charlotte Williams
Firstly I would encourage you to watch this Insta Story from Charlotte Williams. Charlotte is the founder of a social media and influencer marketing agency with a focus on diversity and inclusion. You can also find the podcast she co-hosts about sustainability here. I shared Charlotte's Instagram video with family and friends and I'm grateful to her for devoting her time and energy to create it in what must have been a particularly heavy week. 
Sabrena Khadija
Sabrena is a visual artist. I love her work. Follow her on Instagram here. Check out this short video to hear her talk about her experiements in merging analogue and digitial styles. She also has a beautiful Etsy store with gorgeous zodiac riso art prints. 
image credits Sabrena Khadija
Ciara LeRoy
photo credit honeysagephotoco
You'll find Ciara at @prettystrangedesign on Instagram. She's a multi-disciplinary handicraft artist & designer specialising in lettering, embroidery and fashion. 
I particularly loved this piece and the words she posted to accompany it. 
"Earlier this week, I was afraid to start a particular design project because I had never done anything like it before. I spent days sitting in feelings of inadequacy, fear, and doubt. But then I decided to just begin the thing. And this thing is now one of my favorite pieces of design I've ever made. Afterward, I stitched this weird, colorful cocoon to remind myself to just begin. Creating things, taking the first step, picking up the phone, filling out an application—starting things is hard, confusing and fraught with transformative pains. But the hope is that we eventually emerge from that dark cocoon bigger and better than when we started. Just begin."
Ciara customised this pink jacket for a client who requested to look 'like a sprinkled donut'. Perfection.
You can find out more about Ciara and her work here. 
Amina Mucciolo
Many of you will already be fans of Amina who is studiomucci on Instagram. Her rainbow world will bowl you over with creativity and courage. Amina designed and decorated the most breathtakingly colourful rainbow apartment you can ever imagine; check out cloudlandhome to see and her youtube videos for the story of anguish that came with it. Amina's strength and positivity is astounding. 
Kristabel Plummer
photo credit iamkristabel
Kristabel is a London blogger; her website and Instagram are full of lifestyle, fashion and travel stories. She covers a whole range of topics from personal finance, shopping, property and style as well as the invasion of pigeons on her balcony. Follow her for beautiful clothes, international adventures and insightful chat. 
photo credit iamkristabel
---
We acknowledge that this has been a traumatic time for black people around the world. We wish you all a safe weekend.
Black Lives Matter.