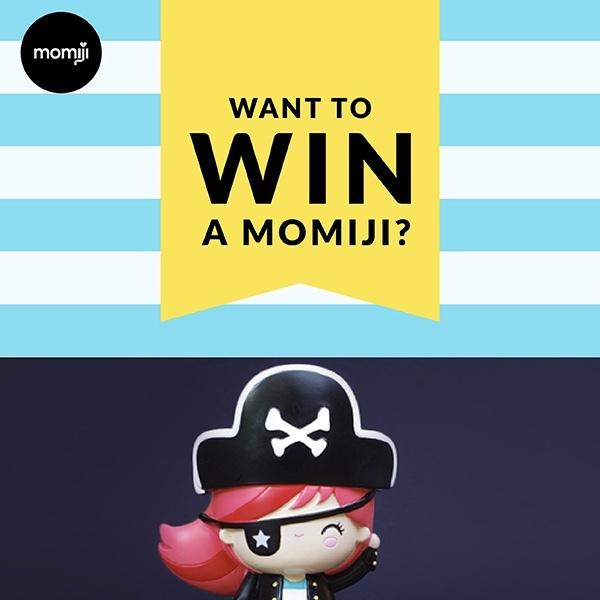 --- UPDATE: WINNERS ANNOUNCED ---
I hadn't quite anticipated the power of the responses we'd get to this weekend's contest. Reading through all the replies below, I just didn't know where to start with choosing winners. 

If you haven't read the comments, I'd really recommend taking a scroll through them. I loved that some people had taken the time to leave a comment of support or advice for other entrants. Maybe we've all got something to offer that could help someone else achieve their dreams. 

So many of your comments really moved me - thank you being so open and brave with your feelings. 

Choosing winners was tricky. I kind of wished that we'd said we'd choose them at random because it was just too hard! In the end I picked winners that made me feel a little spark of excitement; I figured that's what Romilly would do.

I realised I'd picked 6 instead of 5 but I couldn't choose between them all, so we have 6 winners:

Bethany Summer 
I am a dreamer, but my greatest personal dream currently is to complete a master's degree program in using technology in special education so that I can resume teaching. I used to teach early childhood special education, but due to a genetic illness now rely on a wheelchair and cannot meet the physical demands of this type of teaching. Teaching has been my dream since I figured out there was little demand for fairy princesses and is my greatest passion. I want to leave the world a bit better because I lived and teaching is my greatest opportunity to do so.

Jessica Alice Jones 
My dream is to make a real difference in the world for women, and to start with making sure that they have entertainment that actually represents them. I've literally just finished writing my MA dissertation on women in film but actually making a career out of writing about women in films seems impossible and that I wouldn't be good enough at it. But only time will tell!

Jaci Hall 
My "if I could do absolutely anything" dream would be to continue playing my trumpet for a professional orchestra that records movie scores as well as concerts. Music is powerful and has no language. It brings people together and can make them feel the full spectrum of emotion.

Pandora Maskine 
My dream would be to recover from my illness and become an awesome makeup artist! It's been my dream for so long and I'm fighting so hard for it to become a reality. It's hard, but I'll do anything to recover and go to the Australian College of Makeup and Special Effects! 

Julia 
My dream is.. to get my life back. I struggle with anxiety/panic attacks and agoraphobia, and have been housebound for two years. I've lost any sense of normalcy that might be previously existed, and it just feels like I'm stuck in limbo.. waiting for my life to start again. It's going to be extremely hard to get back to where I was before, but I do hope that someday I'll garner the courage to get out of here. I miss going for walks and dancing in the rain.. I hope that I can do those things again someday.

Abigail Yi 
My dream is to live a happy and fulfilling life as an illustrator! My goal is to share happiness, love, and comfort with my art in a modern world filled with dreary news and hate. I've been drawing since I was a child and although some people have discouraged me to do so.. I've quit my day job and gone full-time to try to make this dream come true. It's scary but so far it's been such a wonderful experience and adventure :)

Congratulations to our winners. I'll email you today with news of your prizes. 

Thanks again EVERYONE who entered. And if you get a moment to read through the comments and leave a comment of support for someone else, that would be an amazing thing to do. 
"Be fearless in the pursuit of what sets your soul on fire!"
---
Original post:
Before you enter this contest, your first assignment is to do a little day dreaming.
Take a moment, get comfortable, close your eyes and take some time to think about that thing you've always dreamed of doing. Maybe it makes your heart beat faster, maybe it makes you hold your breath with fear. What does it look like for you? It might take a little while for it to unfold in your mind or perhaps your dream appears before you immediately in bright technicolour. 
We created Romilly as a symbol of feistiness. She's wild, ambitious and fearless. What would you do if you weren't scared? Sometimes it feels like fear of failure and criticism are hard-wired into us. And then there's that voice in your head that says 'Woah! Wait, we're not ready yet'. 
Romilly is here to remind you to let go of the fear. We want to know what sets your soul on fire. We're looking for sparky ambition! 
We're giving away 5 Momiji dolls - to be in with a chance of winning, tell us about your ambition. Tell us the dream! Leave your answer below, in no more that 100 words. We'll pick our 5 favourites next week. Get involved. The world needs your voice.