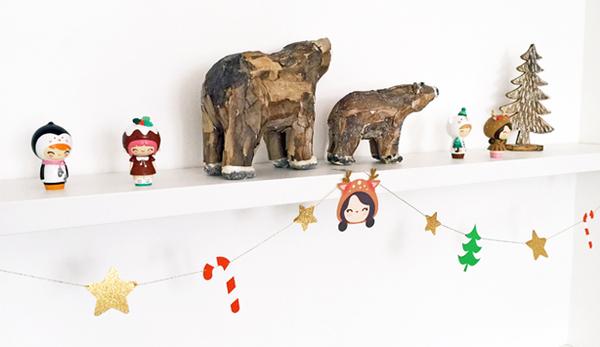 Can't believe we're on day 21!
First of all, thanks to everyone who entered our little Instagram contest yesterday. We chose a winner, @rabbithare who tagged @owlsinorbit. Congratulations you guys, check your instagram direct messages later today!
Helena has been getting her craft on again and created this beautiful little garland. It would look lovely on a fireplace or next to your Momiji collection. Get cosy and get crafting!
You will need:
* Printable pdf A (tree, candy cane, stars, antler, Kiko)
* Printable pdf B (if you want to colour your shapes instead of using coloured paper)
* Coloured paper of your choice : we used red, white, green and glitter gold sheet
* Scissors or paper cutting knife
* a needle and thread
1. Print the PDF file A . Cut out all the pieces. Put aside Kiko's shape. Trace the star, tree and candy cane onto coloured paper and cut them out. If you want your Kiko to have glitter antlers, cut them out of glitter gold sheet and attach them over Kiko's light brown antlers.
2. Thread up a needle with gold cotton and string your shapes together by piercing left and right side of each one. Continue until you have a garland of the desired length.
3. Hang your garland and step back to admire your handiwork!
See you all tomorrow!